Sausages
Too often, when we eat sausage, we do not know what it really contains. With the Furca sausage, we see and taste the quality of the ingredients. Meat coarsely chopped premium ingredients, cheese, herbs and other seasonings garnish our sausages. No artificial preservatives or added water. Good ingredients, that's all. And besides, they are delicious!
---
Classic sausages
Classic but full of flavour, these are the perfect Furca to add to your recipes! Whether it's for a large dinner party or an intimate get together, these sausages are sure to be a hit. Gluten-free and with no added water, these sausages are produced in Quebec with great attention to quality. Thanks to the classic range, taste the tradition in all its flavour!
---
Quebec Sausage
Classic Quebec pork sausages
What would a classic "Québécoise" sausage look like? A sausage from here, to be enjoyed at any time of the year? With its comforting taste, these flavours from here, we think we've found it! Perfect for warming up in the heart of winter or for grilling under the blue sky on summer days.
---
Full details
---
Smoked Bacon
Classic smoked bacon sausages
Bacon or sausage? Why choose when Furca offers you both: a finely smoked sausage with a bacon taste that combines the best of both worlds in an explosion of flavours.
---
Full details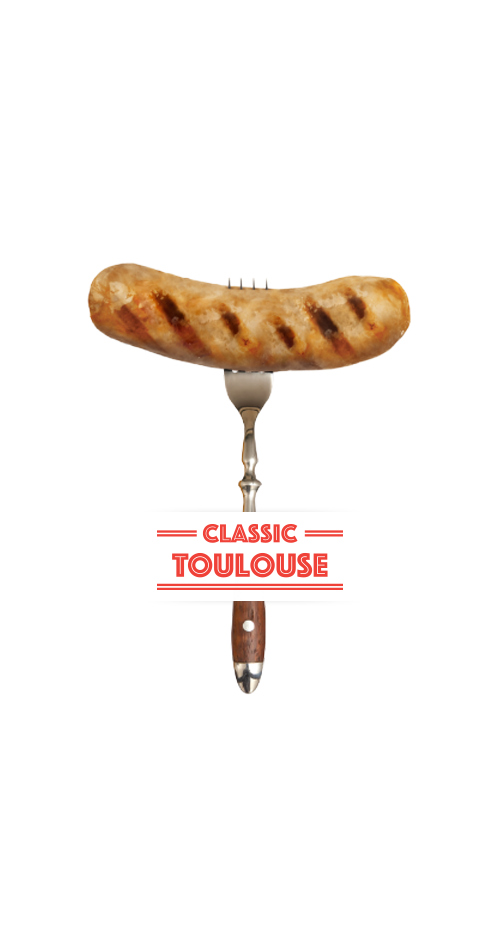 ---
Toulouse
Classic Toulouse pork sausages
Want to travel a bit? Cross the Atlantic and breathe in the fragrant air of Occitania with the classic Toulouse sausage; tender meat and Mediterranean aromas will give your pasta the perfect kick!
---
Full details
---
Keto
Thanks to Furca, you can be a foodie and still maintain your Keto lifestyle. Because yes, delicious and tasty sausages exist! They only contain good ingredients such as good fats, but more importantly, almost zero sugar! Let's face it, it's "fatlicious"!
---
Burger
Because for many, burger too often means a sad beef patty with a few specks of white onion, Furca brings you a new, reinvented burger. Yes, you can be carried away by a burger!
Furca has given itself a true mission when it created its products: taste and... more taste!
Two burgers, two worlds to discover!
Contains no preservatives or added water.
---
Babe Ruth
Smoked meat and yellow mustard burgers
Perched on the couch, at the edge of your seat, you're right in the game! Two players on the goals. The atmosphere is feverish. He steps up to the plate, takes a swing and... bites! Our Babe Ruth Burger, a classic smoked meat and yellow mustard burger that doesn't come from left field. A real home run that will get the crowd cheering madly!
---
Full details
---
Le Parisien
Mushrooms and brie burgers
Lively conversations, clinking glasses, the accordion barely covers this festive din. Le Parisien, a decadent and unctuous mushroom-brie burger, transports you to the brasseries of Saint Germain des Prés. And for some, rumour has it that a few bites are enough to change the accent.
---
Full details
---
Meatloafs
Winter and comfort food were on our mind when we developed our latest offering: meatloaf. Recalling the flavours of our childhood, we brought meatloaf up to date by using quality products, starting with our quality meat and the best ingredients to make Furca's meatloaf a welcome guest on your dinner table. Discover these two new recipes that are sure to keep you warm this winter!
---
Alpine
SEASONAL PRODUCT

ONION SOUP STYLE WITH CARAMELIZED ONIONS AND SWISS CHEESE MEATLOAF
You have been skiing all day and you are now sitting by the fire in your rocking chair, watching the snow-covered mountains. Our mouth-watering Alpine meatloaf awaits you to prolong this enjoyable moment with its delicious aroma of caramelized onions and the zing of Swiss cheese. Fulfillment mixed with a moment of total relaxation...


---
Full details
---
Trendy
SEASONAL PRODUCT


MAC & CHEESE AND BACON MEATLOAF
We did it and it's really good! Furca has reinvented the traditional meatloaf by blending the beloved mac & cheese and bacon. And by combining those two guilty pleasures, we created something even more delicious! Discover Trendy and become a child again!


---
Full details
---
Lamb chops
The taste is fine and delicate, it melts in the mouth, it is eaten well in grill ... So many reasons to discover (or rediscover!) the lamb chops! With herbs chosen to enhance the flavors, the Furca chops will conquer all the forks. To savor them at their best, opt for a pink cooking.
---
Greek Lamb Chops
Greek Spices and Lemon Lamb Chops
The fresh taste of herbs, the hint of lemon that reminds you of the summer sun: disarmingly simple but exquisitely tasty, these lamb chops will often be back on your menu!
---
Full details